Enjoy a wonderful Easy to Read Version of the Bible, free for Android.
If you love to read the Bible this version will surely trap you.
This is your time to approach God and to follow his Holy Teachings. This is your time to turn into a better person and to help and love your neighbor, this is your time to read the Bible everyday.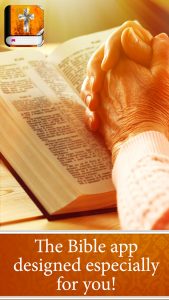 You can now download the Holy Bible and take it with you every day on your phone. Turn it into your best companion, enjoy its verses, Psalms and quotes.
Study Jesus´s life and understand what His mission on Earth was. Try to follow His example and always walk through the right path.
With this easy to read and understand Bible you´ll have happiness at your fingertips, because this app will help you understand the God's Word even better.